About Eileen Coen, J.D.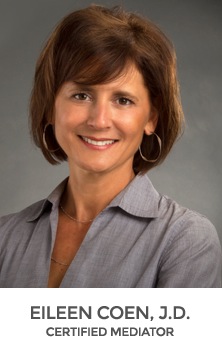 As founder and principal of Eileen Coen Mediation, Eileen combines over 26 years of experience as an attorney, mediator, educator, and parent to provide a comprehensive approach to achieving separation and divorce and navigating other difficult family transitions.  Eileen is privileged to work with clients who courageously confront challenging dilemmas and pursue the kind of success that transcends "legal victories" by seeking clarity about what it takes to liberate oneself from conflict and create the possibility of a happy life.
Eileen was inspired to specialize in conflict resolution after working for the United Nations High Commission for Refugees (UNHCR) where she observed and began to understand the power and reward of participant-driven, negotiated resolutions to conflicts within families, communities, and workplaces.
Since then, Eileen has mediated hundreds of family and workplace conflicts throughout the greater Washington, DC area – within court systems, government agencies including the Maryland Commission on Human Relations, NASA and the U.S. Department of Energy, the Key Bridge Foundation, and in private practice.
Eileen is one of a distinguished group of mediators certified by the Maryland Council on Dispute Resolution (MCDR) and is also trained as a collaborative attorney and conflict coach.  She has served on the MCDR Board and as Chair of Maryland's performance-based Mediator Certification program. Eileen is currently a member of the Montgomery County Divorce Roundtable, an advisory committee comprised of judges, attorneys, mediators, and mental health professionals working to improve the access and quality of services available to families within the court system to resolve divorce and custody matters.
Eileen is an Adjunct Professor at the University of Baltimore Law School, teaching Mediation Skills. She has helped to train hundreds of professionals in mediation skills as a trainer and coach for the 40-Hour Basic and 40-Hour Divorce Mediation training, approved by the Maryland Court of Appeals, and has presented on mediation topics for the Academy of Professional Family Mediators, the Maryland Council for Dispute Resolution, the D.C. Superior Court Multi-Door program, the Maryland Mediators Convention, the D.C. Bar, and various other professional associations.
Education:
J.D.,

George Washington University Law School

B.S., cum laude,

University of Maryland
Professional Associations/Memberships:
Academy of Professional Family Mediators
Association of Family and Conciliation Courts
Association for Conflict Resolution
Maryland Program for Mediator Excellence
Mediators Beyond Borders (founding member)
District of Columbia Bar
State Bar of California
Montgomery County Bar Association
Maryland Council on Dispute Resolution (MCDR)